Aberfeldy's Birks Cinema appoints general manager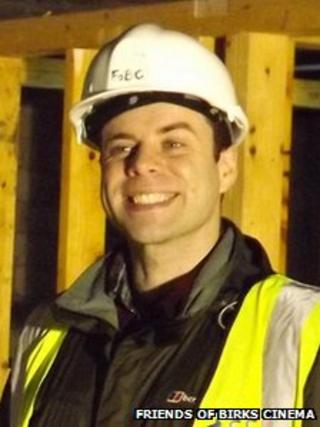 The team behind the restoration of a derelict Perthshire cinema has appointed a general manager.
Paul Foley will be responsible for running the Birks Cinema in Aberfeldy once work to completely refurbish the building is finished.
Mr Foley will take up the post on 3 December. The restoration is expected to be completed in the spring of 2013.
The cinema, which is in the centre of the Perthshire town, closed down about 30 years ago.
Once it is back up and running, the Birks Cinema will include a cafe bar and act as a venue for other uses including the screening of live sporting and cultural events from around the world.
Diverse offerings
Mr Foley said: "I'm incredibly excited at the possibilities the cinema presents. Not only will it show the latest blockbuster films on release, with 3D capability, but I am really looking forward to helping create a community cinema that everyone can engage with and get involved in.
"Have no doubts, this cinema will be state-of-the-art and show the best and latest films, but in addition to that, we're looking to provide as diverse and inclusive a programme as possible and to offer something a bit special compared to the city multiplex experience.
"Cinema allows us to step into other universes and brings a little magic into our lives. Hopefully The Birks can bring a little magic to Aberfeldy and the whole of Highland Perthshire."
Charlotte Flower, chair of the Birks Trading Company, said: "We are delighted to welcome Paul to the position of general manager.
"His enthusiasm, skills and experience will now take our vision of a thriving social enterprise business forward and bring the new cinema to life in 2013.
"We look forward to delivering a high quality attractive experience for local people and visitors alike and make a trip to the new Birks cinema a 'must' for anyone visiting the region."