Smuggling scheme launched at Stirling's HMP Cornton Vale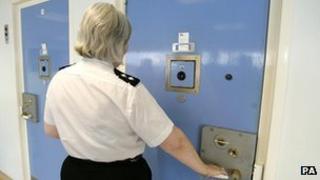 A scheme which encourages local communities to prevent illegal items being smuggled into prisons has been launched at HMP Cornton Vale.
PrisonWatch Scotland aims to prevent illegal activity, and suspicious or inappropriate behaviour, in and around the all-woman prison in Stirling.
It is modelled on a initiative piloted at HMP Edinburgh in 2011.
That project resulted in a 76% fall in the level of contraband within a six-month period.
PrisonWatch Scotland is being run in partnership with the Scottish Prison Service and Central Scotland Police.
More than 150 homes in the vicinity of Cornton Vale have been leafleted with information about Prison Watch in the run-up to the launch.
Report suspicions
Signs have also been posted at visible spots around the prison boundary to ensure the public are aware of their role in making the scheme a success.
Central Scotland Police said they would encourage residents to report suspicious behaviour, such as unusual vehicles parked near the prison, groups of people or individuals loitering in the area and unusual noises.
Insp Patrick Scroggie said: "Cornton Vale is nestled in a large community area and it's important that residents and members of the public feel in a position where they can report incidents and suspicious behaviour.
"By building this initiative on a sound model like the Neighbourhood Watch, which has proven to have had positive effects in the past, we are looking to the community to support both ourselves and the Scottish Prison Service.
"People do not need to feel embarrassed about phoning in and reporting any suspicious activity that they may spot near the prison."
He added: "They can contact us anonymously, ideally with descriptions of the suspects and any vehicle registration numbers, and we will investigate each report alongside our colleagues at the Scottish Prison Service."