Work begins on Comrie's flood defences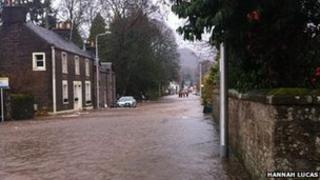 Work to shore up the flood defence at the rain battered village of Comrie has been started by Perth and Kinross Council.
The authority gave the go ahead to the £1m flood mitigation measures after the village was badly flooded last week.
Temporary flood defences were built last week, including a wall across Camp Road using large sandbags.
The council said work had now started on the permanent flood alleviation measures.
Engineers were commissioned to look into Comrie's flood defences after the Water of Ruchill burst its banks in August, following heavy rains.
The works were due to be started at the end of the year, but were accelerated due to the flooding last week.
Some preparatory works were undertaken last week, including the erection of a fence beside the east bank of the river to protect pedestrians, and safety measures carried out by Scottish & Southern Energy and Tayside Contracts.
Excavation started
Contractors were also on site over the weekend to complete the clearing of vegetation from the Fey Burn and from the dry side of the small concrete flood mitigation wall.
On Monday, following agreement with local landowners, SEPA and Tay Salmon Fisheries, work began to excavate the gravel bar from the bend in the Water of Ruchill and to remove fallen trees from the river bed and banks.
The authority said, weather permitting, further preparations to form a new temporary access track into one of the flooded private residences will also be carried out on Wednesday, as will work to remove a substantial section of the 1960's flood embankments.
Perth and Kinross Council said it hoped that this would allow work to progress further on the permanent flood defences at the end of Camp Road.
The temporary sandbag flood wall will be left in place until the permanent solution for Camp Road is implemented.
Depute council leader, Councillor Alan Grant, said: "We recognise the concerns that the community in Comrie have about the potential for any future flooding incidents.
"Therefore, we have moved as quickly as possible to start work on the flood alleviation measures approved last week and I am pleased that good progress is being made.
"The support of our partner organisations to help us take these works forward is also very much appreciated."