Gas leak near Fishcross sees 3,500 homes without supplies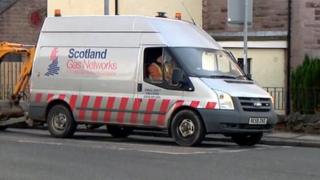 About 3,500 homes in Clackmannanshire are without gas supplies after damage to a mains pipe in Fishcross caused a major gas leak.
Engineers from Scotland Gas Networks (SGN) have stopped the leak and were working to repair the damage. It is understood the eight inch pipe was cut by a farmer doing drainage work.
Gas supplies were disconnected in Dollar, Tillicoultry and Fishcross.
Local schools were evacuated. Dollar Academy will be closed on Wednesday.
SGN said it hoped to have supplies restored over the next couple of days.
Earlier the company had confirmed about 1,100 homes had lost supplies in Dollar. It said this number could rise as people returned home from work.
Later supplies were also lost in Tillicoultry.
Anne Neilson of Scotland Gas Networks told BBC Scotland: "Engineers have managed to secure the gas leak. They are still there working to permanently repair the damaged pipe.
"They will be able to begin reintroducing gas into the network."
She added: "We have set up a facility in Tillicoultry Community Centre.
"We have customer service staff there on hand and we are working with closely with the local council to help vulnerable customers with temporary heating and cooking appliances."
Restoring supplies
Following the leak, Fishcross Primary and Clackmannan Primary schools were evacuated, with pupils taken to Clackmannan Town Hall.
Clackmannan Primary has since reopened, but about 1,200 pupils at Dollar Academy have been advised to stay at home on Wednesday as the school's heating will not be working.
Central Scotland Police said there had been no further evacuation of any premises and that gas levels within the local atmosphere were being monitored.
Roads in the area were closed following the leak.
Clackmannanshire Council said it was liaising with SGN, Central Scotland Police, Central Scotland Fire and Rescue Service, Scottish Power, NHS Forth Valley and other involved organisations to ensure that the public were kept updated and that vulnerable people are protected.
Chief executive Elaine McPherson, said: "We are working closing with all our partners to ensure people's safety and that the incident is managed efficiency."
SGN's engineers have been calling at each property to ensure that all gas systems have been shut down before beginning to restore supplies.
Residents will not be able to use their gas again until engineers have called for a second time to restore the supply.