Ban for whisky executive who drove at 114mph on M90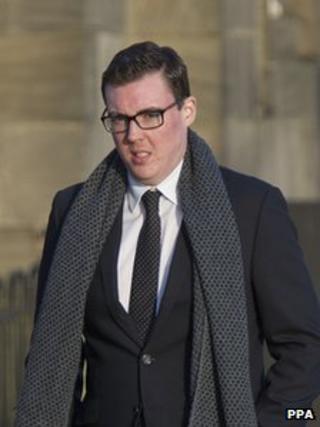 The global head of brand for a Scottish whisky firm has been banned from driving after being caught speeding.
Christopher Watt was recorded driving at speeds of 114mph on his way home from the Dalmore distillery on 27 August this year.
The 25-year-old, who flew back from New York to appear at Perth Sheriff Court, admitted driving dangerously on the M90 between Perth and Inverkeithing.
Sheriff Michael Fletcher banned him from driving for a year.
The court was told Watt, who recently launched a $250,000 whisky collection in the USA, had flown back for his court case.
Excessive speeds
Fiscal depute Robbie Brown said the police were carrying out a speed check on the road when their attention was initially drawn to a vehicle travelling even faster than Watt's.
He said the officers then followed Watt's car and clocked him driving at an average of 114mph over a marked distance shortly before 20:00.
Watt admitted driving the company's Audi A4 southbound at 114mph as he overtook slower moving vehicles and passed exits at junctions four and five in Perthshire and Fife.
Solicitor David Storey, defending, said: "This case was continued for a period to allow my client to return from New York city where he had been allocated a work-based assignment as head of brand for a whisky company.
"On the day in question he was returning to Edinburgh from Alness, 30 miles north of Inverness. He had left after work at approximately 17:00 and driven through heavy traffic to get to the A9.
"He described the traffic there as light and, in his own words, he had an open road. The vehicle was an Audi A4 company car and the car was returned to the company very shortly after this offence."
Full co-operation
Mr Storey said his client had not been paying attention to the speed and was disappointed and upset to learn how fast he had been going when the police informed him.
He added that Watt had fully co-operated with the officers.
"At no time has he tried to minimise his actions. He has had time to reflect and is thankful an accident did not occur which could have endangered himself or other road users," the solicitor said.
"I ask the court to take into consideration that he has had a clean driving licence since he passed his test in 2004."
Sheriff Michael Fletcher banned Watt for a year and ordered him to pass the extended driving test before being allowed to return to the road. Watt was also fined £1,000.