Council leader criticises Alloa Sheriff Court closure plans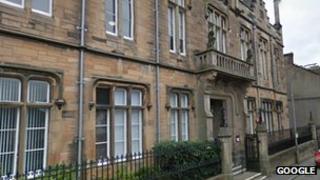 Plans to close Alloa Sheriff Court have been criticised by the leader of Clackmannanshire Council.
Gary Womersley said closing the court would have a detrimental effect on local residents.
The council has launched an online consultation urging people to give their opinions about the proposed closure.
Alloa is one of 11 sheriff courts the Scottish Court Service (SCS) is considering closing across Scotland.
Cases from Clackmannanshire would instead be heard in Stirling and Falkirk.
The proposed closures are part of a nationwide restructuring of the service, which SCS said was due to reduced budgets, law reforms and a modernisation of the system.
Extra costs
Mr Womersley said: "It is absolutely vital that this service remains in Alloa to serve the people of Clackmannanshire.
"The closure of the Alloa court would mean witnesses and their families having to travel to Stirling or Falkirk with the associated extra cost and inconvenience.
"It would also have implications for local solicitors and council staff who attend court, such as lawyers and social workers and other staff who attend court such as police officers."
The council's campaign is being supported by the Society of Solicitors of Clackmannanshire, the local law faculty.
Recently expanded
The society's Jim Savage said: "It is local solicitors' view that this idea is ill conceived and the consequences have not been fully thought through.
"Alloa is a very busy court and only recently the Scottish Court Service spent over £3m to expand the court facilities to meet local needs."
Clackmannanshire Council's formal response to the SCS's consultation will be put before the full council at a meeting on 20 December and will incorporate the responses received via the online consultation.