Falkirk Council finishes work on Bo'ness 'Coffin Blocks'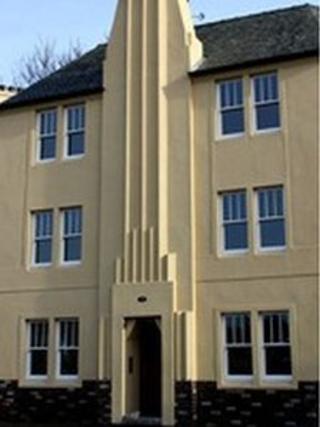 Work to refurbish some of the earliest examples of social housing in Bo'ness has finally been completed.
Falkirk Council has spent more than £1m upgrading the former "Coffin Blocks" in Corbiehall, which have lain empty for the last seven years.
The homes got their local nickname because of their coffin-shaped doorways.
The B-listed properties have been renamed Matthew Steele Court, after the architect who created them in 1932.
Mr Steele was known for his art-deco style buildings, and was also responsible for the local Hippodrome cinema.
Falkirk Council said the 28 flats in the blocks would now be available for rent.
'Historical significance'
Councillor Gerry Goldie, convener of housing and social care, said the houses were the first examples of social housing in the area.
"We took a decision to invest a substantial amount in these properties to bring them back in to our housing stock and to contribute to the Bo'ness Townscape Heritage Initiative," he said.
"They are now fully tenanted and we really hope the people who live there appreciate the historic significance of Matthew Steele Court."
The refurbished Matthew Steele Court will also form the focal point of a new social history initiative.
Thirty volunteers and 180 school children will research and collect stories about the Coffin Blocks as part of the New Lives project.