Tayside Police launch campaign targeting domestic abuse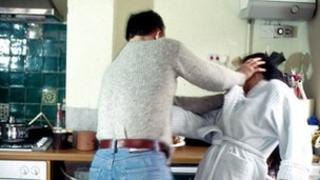 A campaign to crackdown on domestic abuse over the Christmas period has been launched by Tayside Police.
Operation Lynchpin will run right through the festive season and into January.
Now in its fifth year, the initiative seeks to break the cycle of abusive behaviour and to support its victims.
The force said a number of multi-agency events were being organised to coincide with the operation, under the banner "16 Days of Action".
Tayside Police said anyone reporting an incident of domestic abuse could be assured that it would be thoroughly and sensitively investigated.
Exposing abuse
Det Insp Jim Smith said: ''Tayside Police and its partners maintain a focus on this issue throughout the year but Lynchpin provides us with a platform to highlight this issue to the public and shine a light on domestic abuse at a time of year when we generally see a rise in the reporting of such incidents.
''During the course of this campaign every officer will take every opportunity to expose, investigate, record and tackle domestic abuse in whatever form it takes.
"We want to send a very clear message to that small, but nonetheless significant number of people, who wrongly believe that violence, including domestic abuse, is normal - acceptable even."
He also warned that the police took a dim view of domestic abuse.
''It will not be tolerated. People who engage in domestic abuse will be arrested and treated as the violent criminal they expose themselves to be," said Det Insp Smith
Operation Lynchpin is being conducted with support from the Violence Against Women Partnerships in Dundee, Angus, and Perth and Kinross.