Comrie flood defence plans to be sped up by council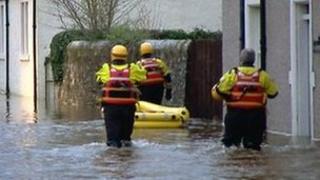 Perth and Kinross Council are to speed up plans to improve the flood defences in the village of Comrie.
The authority said it would accelerate proposals put forward by engineers for a £1m flood mitigation scheme.
It comes just days after the Perthshire village suffered heavy flooding in which 150 residents were evacuated.
The council said it would also be removing fallen trees from the bed and banks of the Water of Ruchill.
Engineers were commissioned to look into Comrie's flood defences after the Water of Ruchill burst its banks in August, following heavy rains.
The report, which was submitted to the council on Tuesday, recommends raising Camp Road and building a small wall closer to the river.
River work
The council has decided to move forward with the plans after the village was flooded again on Monday.
As well as moving any fallen trees from the river, the authority intends to clear the gravel bar at the bend in the Water of Ruchill, where it burst its banks, to reduce the pressure on the eroded bank.
Councillor Ian Miller said: "Since the event in Comrie in August we have been working in partnership with the local community to find ways to alleviate flooding.
"Having received the initial proposals this week, we have immediately accelerated the timetable and committed £1m to the protection of the community of Comrie.
"It is thanks to the council's sound financial management over the past few years that we are able to pledge this amount from council reserves.
"However, we are also in discussions with the Scottish government about a possible contribution to the costs, which I would warmly welcome."