Dundee's NEoN festival attracts 4,000 visitors on £750 budget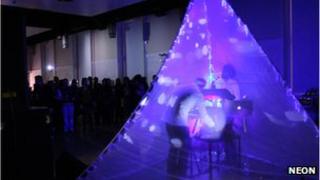 An international festival has managed to attract more than 4,000 visitors to Dundee, despite having to be organised on a budget of £750.
NEoN is Scotland's only international digital arts festival and has been running since 2009, but this year lost its public funding.
But instead of abandoning the event, organisers carried on, backed by donations.
The festival promotes the digital media industry in Tayside.
NEoN's main aim is to create works of art that could not have existed before the computer age.
Despite the success of previous festivals, the organisers were told there would be no public funding for the 2012 event.
Lyall Bruce, the festival's creative director said NEoN had always attracted visitors and they knew Dundonians would support it.
National ambitions
"NEoN has always been a very successful event, even from the first year we started it. I think there is a great will for people to come and support the digital arts, especially in Dundee.
"We knew there would be a good crowd to come to this, particularly on a local level, we want to try and ramp it and get more people in on a national level in the future.
"We know there's a lot of good will, we know what we're doing is appreciated as well, and think that's always important in a festival."
He said running a major festival on a shoestring budget was a challenge, but they did get help.
Local support
"It was a daunting prospect, but we couldn't have done it without people like the DCA, the Rep, Abertay University, the V&A at Dundee, Creative Dundee, places like that, that all came together.
"But the people actually that put money to help us do it, they were local businesses as well, so they put their hands in their pockets and gave us a small token amount of money.
"That allowed us to bring artists over."
Mr Bruce said NEoN had taken steps to ensure better funding for the future and had become a charity in its own right
New funding
"The charity thing is a big important move for us, because up to now, NEoN essentially hasn't been its own entity," he said. "It was always under the local authority budget, it was really controlled from that side.
"So, by having it set up as a charity, we now can set up our own structure, can go forward and look for funding, but also as a charity, not just focus on being a festival once a year, but also actually something that carries on and supports the community all year long.
"The connections we've made in the four years of the festival can be used in other areas, where the digital arts can help the local community."