Adam Alexander killing: Remains were those of missing victim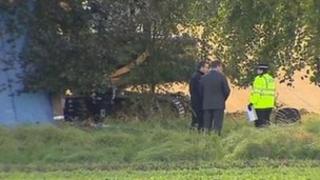 Humans remains found in a field in Perthshire were those of Adam Alexander, the Crown Office has confirmed.
Officers searching land at Muiredge Farm near Errol uncovered part of a human calf bone on 18 September.
DNA analysis has now confirmed that the remains were those of the 46-year-old lorry driver.
Mr Alexander died after being attacked with a metal pole by Thomas Pryde following a row in 1999.
Pryde pleaded guilty in 2010 to culpable homicide and was jailed for 10 years.
Following his arrest he told officers where he buried the the 46-year-old's body, but a large-scale search in 2008 failed to find any trace of Mr Alexander.
A Crown Office spokesman said: "The family of Mr Alexander have been advised of developments and also informed that there will be no further proceedings in relation to his death."