Spanish tourists 'will never return' after Perth attack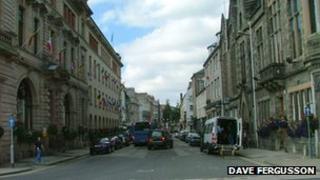 A group of Spanish tourists has vowed never to return to Scotland after being attacked in Perth, a court has heard.
The Spanish tourists were walking down Perth High street when three strangers launched an unprovoked attack.
At Perth Sheriff Court, Louise Burden admitted attacking the group. Ross Frankowski and Dayne Cairns admitted breaching the peace.
Sheriff Valerie Johnston jailed Cairns for 90 days and deferred sentence on the two others.
The tourists told police they had been so distressed by what happened that they were flying straight home to Spain.
Distressing incident
Fiscal depute Robbie Brown told Perth Sheriff Court: "They were tourists. They left this country and never want to return to Scotland again after what happened to them.
"They were all extremely distressed by the incident and all very frightened by what might have happened to them.
"They indicated to police they wanted to leave as soon as possible and would not be returning to this country again."
The court was shown CCTV of the six Spanish tourists, aged between 55 and 62, walking along Perth High Street at 22:30 on 18 June.
No reason was given for the attack.
Louise Burden, 21, could be seen running up and attacking one of them, knocking her victim to the ground, before her partner Ross Frankowski, 28, and his friend Dayne Cairns, 23, joined in.
The tourists, who were walking back to their hotel after dining in the city, eventually managed to get away and were seen to be shocked by the incident.
Burden, from Perth, admitted punching and kicking the group, after shouting, gesticulating and struggling with them.
Cause unknown
Solicitor Jamie Baxter, for Cairns, said: "Neither he nor Frankowski were with Burden when this occurred. They had no inkling what caused it. They had been drinking.
"He really is apologetic for having got involved in this and the effect this may have had on tourists to Perth."
Sheriff Valerie Johnston said: "He would know they were mature individuals going about their business. You could say it was fortunate he did not have weapons. "
"He has a formidable record for someone of 23 and carrying weapons is something he seems to do on a regular basis. It is disgraceful."
Jailing Cairns for 90 days, she told him: "You should be totally ashamed of yourself."
Sentence on Frankowski and Burden was deferred until next month for the preparation of social work reports.