Former court security guard jailed for Dundee hammer attack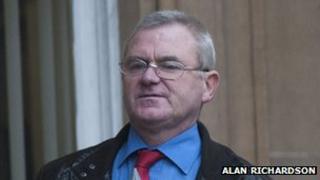 A former court security guard, who attacked a woman with a hammer after she refused to become his girlfriend, has been jailed for two years and three months.
Daniel Irvine met Louise Knight while working at Dundee Sheriff Court.
Irvine, 53, admitted striking Miss Knight, who was working as a prostitute, with a hammer, leaving her permanently disfigured.
Sheriff Richard Davidson called the incident a tragedy.
The court heard that Irvine, a father of one, had got Miss Knight's phone number while working at the court.
Rescuing victim
He began talking to her by phone and meeting her, before his "feelings deepened".
Irvine wanted to "rescue" her from a "life of drugs and prostitution" and went to her flat in Dundee's Eden Street to ask her out.
But she refused and instead offered to take him to the bedroom for sex, at a price.
Irvine said he was "repulsed" by the offer before launching the attack on the 28-year-old on 31 October 2011.
Fiscal depute Ross Cargill told Dundee Sheriff Court: "Some days later she was examined at Ninewells Hospital and found to have a one inch 'Y' shaped laceration to her head that will leave permanent scarring."
The court was also told that Irvine had sent a string of abusive text messages to ex-wife Helena Booth.
Irvine, from Dundee, pleaded guilty on indictment to charges of assault to injury and permanent disfigurement and of breaching the Communications Act.
Alcohol consumed
His solicitor, Ann Johnston, told the court that Irvine had "lost everything, his loving wife, good job and beloved son" after becoming addicted to alcohol.
She said that Irvine had consumed eight litres of 9% cider on the day of the attack.
Sheriff Davidson jailed Irvine for two years on the assault charge, with a further three months for his abusive text messages.
He said: "You became involved with this woman who you met in the course of your employment here and I regard that as an aggravation because of the advantage she could have sought from you in the operation of this building.
"The bottom line is that you hit this woman on the head with a hammer causing her to be disfigured permanently.
"It could have been a fatal blow. It really is a tragedy that you've gone from being a loving and caring father to hitting a prostitute over the head with a hammer."