Larbert hospital's woodland recovery scheme a success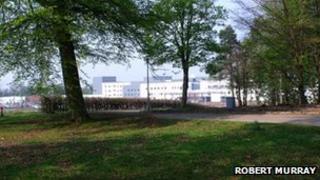 A project in which cardiac patients at a Larbert hospital take part in woodland activities to aid their recovery has been hailed a success.
Patients spend one hour a week getting outdoors and exercising in woodland.
The programme at the Forth Valley Royal Hospital in Larbert is the first of its kind in the UK.
It is part of a study by the University of Highlands and Islands (UHI) into the impact green spaces have on health.
UHI is working in collaboration with the Forestry Commission and NHS Forth Valley.
Lindsay Scott, senior physiotherapist with NHS Forth Valley, said: "We started this project, which is unique in the UK, as part of research to encourage people to use hospital green spaces more.
Patient bonding
"We have had a wonderful setting here, and our patients have thoroughly enjoyed getting outdoors and exercising, we have seen real improvements in their positivity and mental well-being.
"The patients now have much more confidence in getting around outdoors, and the staff members have got to know the patients much better"
Arthur Duncan, who took part in the rehabilitation programme, said: "I got a lot out of the woodland sessions, my stress was completely removed when I was taking part and it made me look at things in a new perspective.
"It was also a great bonding session for all of us who have similar conditions, we got on really well as a group.
"Without a shadow of a doubt, people in the group's well-being improved dramatically over the programme. I think people with any illness would benefit."