Dundee City Council to consider UK City of Culture bid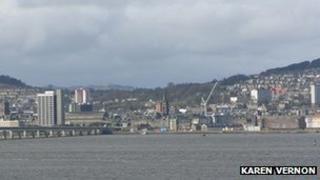 Dundee is to consider a bid to win UK City of Culture status in 2017.
A report has been drawn up for the council highlighting the strength of local cultural partnership and the potential benefits winning the title would have for the local economy.
The bid would highlight the presence of facilities like the V&A at Dundee, Dundee Rep theatre, the Dundee Contemporary Arts and The McManus.
City councillors will consider the report on Monday.
The universities of Dundee and Abertay, alongside Dundee Heritage Trust and a range of local attractions and events have also been highlighted in the report.
Dundee's claim
City council leader Councillor Ken Guild said he believed Dundee was ready to launch a serious bid for the prestigious cultural title.
He said: "There has never been a better time for Dundee to stake a claim to be UK City of Culture. Cultural facilities have been an important component in the city's transformation in recent years.
"This would be a people's bid, where the population of Dundee would play a major role in events that could take place. We enjoy a strength and depth of outreach programmes and local participation that already shows the enthusiasm of Dundee people for cultural activity.
"I believe we could really benefit from UK City of Culture status. Winning would attract in even more economic benefits, helping to regenerate communities and offering real opportunities for our people."
Increased visitors
He said Dundee's visitor numbers are already expected to grow when the new V&A at Dundee opens.
Councillor Guild added: "UK City of Culture status would obviously encourage many more people to come and visit us.
"I am keen that we can be in a position to hit the ground running to put a strong and compelling case for Dundee. We would look to seek support from national arts organisations and funding bodies."
Strong community
City council Director of Leisure and Communities Stewart Murdoch said: "The strength and depth of the cultural sector in Dundee is very evident and is increasingly recognised across Scotland and further afield.
"Dundee has equally strong communities and it is the combined strength of the community and cultural sectors that will give great strength to Dundee's bid.
"It will be interesting to get feedback at this early stage in the process about what Dundee's citizens see as the strengths of their community, and what they would wish to see reflected from their city of many cultures in any bid for recognition as UK City of Culture."