Dundee-born sculptor William Turnbull dies aged 90.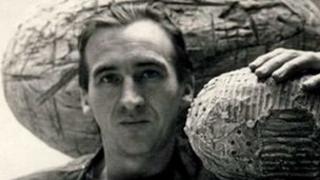 One of Scotland's most respected post-war sculptors has died aged 90.
Born in Dundee in 1922, William Turnbull was never to become a household name but was at the forefront of British art in the post war period.
His work has been exhibited in the Institute of Contemporary Arts, the British Pavilion at the Venice Biennial in 1952 and at the Tate Gallery.
His is survived by his wife Kim Lim and sons Alex and Johnny.
William Turnbull was the son of John and Anne Turnbull.
At the age of 15, his father lost his job as a shipyard engineer, and so he was forced to leave school and find part-time work first as a labourer and then painting film posters.
Magazine illustrator
He was fascinated by art from a young age and attended classes two or three evenings a week at Dundee University where he was taught by the landscape painter James McIntosh Patrick
He eventually gained employment in the illustration department of DC Thompson, where he worked alongside a number of designers and illustrators.
Turnbull's artistic career was interrupted in 1941 when was drafted into the Services. He joined the RAF as a pilot and served in Canada, India and Sri Lanka.
Following the war he was accepted into the painting department at the Slade School of Fine Art, London, where he found his love of sculpture department
First exhibition
He moved to Paris in 1948 where he was introduced to such figures as Leger, Giacometti and Brancusi among others
After returning to London in 1950 his first major exhibition was at the Hanover Gallery with fellow Scot Eduardo Paolozzi.
Turnbull was one of the main protagonists in the "independent group" at the Institute of Contemporary Arts in London in the early 1950s.
He went on to enjoy a hugely successful career as a sculptor, painter and printmaker, has works in the collection of the Tate, the National Galleries of Scotland, Leeds Museum and in Chicago, New York, Los Angeles and Washington.