Clackmannanshire Council to use thermal imaging surveys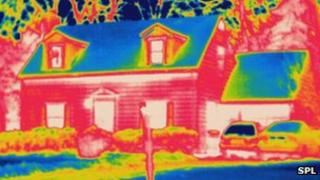 Clackmannanshire Council is to use thermal imaging technology to help homeowners improve the energy performance of their homes.
The authority has secured £130,000 in additional funding from the Scottish government to identify houses losing heat from their cavity walls.
It will use hi-tech equipment to carry out thermal imaging surveys to see where heat is being lost.
The scheme is open on a first-come, first-served basis.
Council officers will be working with specialists to carry out the surveys and to analyse the findings.
Free insulation
Clackmannanshire Council's housing convener, Councillor Les Sharp, said: "The council will be targeting older properties and areas that have been identified as having the potential for having failed insulation due to the age and type of insulation installed.
"Where insulation is failing, funding is available to remove the old insulation and to install new cavity wall insulation for free.
"The replacement of failed insulation will help prevent cold spots, dampness and condensation."
The council said the thermal imaging surveys needed to be carried out in the evening when it is dark and the home is being heated.
Central Scotland Police will be notified of the areas in which the surveys are being carried out.