Dundee University awarded £700,000 for DNA data project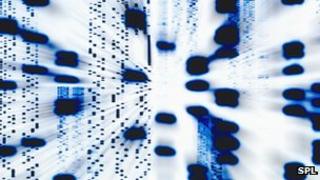 A Dundee-led project that will help scientists make predictions about the structure and function of proteins by sampling genetic data has been awarded £700,000.
The University of Dundee team hope to help researchers make better use of the large volumes of DNA sequence data generated in modern bioscience.
It is being supported by scientists in 140 countries.
The award is from the Biotechnology and Biological Sciences Research Council.
The fund aims to provide scientists with important resources such as databases, new software tools and libraries.
Massive data
Prof Geoffrey Barton, from the College of Life Sciences at Dundee, said: "We have developed tools at Dundee that are now used by researchers around the world thousands of times a month and across the scientific spectrum, from research into diseases like cancer to areas such as plant sciences.
"Research now generates massive amounts of data which has to be handled, stored and analysed.
"The work we have done and which we continue to develop at Dundee provides fundamental capabilities for researchers to use this data efficiently."
Prof Douglas Kell, the research council's chief executive, said: "Many of the exciting breakthroughs that have been achieved by modern biology have only been possible because of advances in technology.
"Developing new tools and techniques to allow us to make the most of the vast amounts of data that bioscience produces is a vital and often underappreciated aspect of research.
"Projects like these are allowing scientists to make major insights and solve previously intractable puzzles at unprecedented speed."
Dundee University is also currently expanding research in quantitative biology within the £50m Centre for Translational and Interdisciplinary Research, which is due to be complete in late 2013.
The centre will integrate expertise in cell biology, mass spectrometry, proteomics, "big-data" analytics, drug discovery and computer science to exploit the potential of the human genome project for healthcare and the development of safer drugs.