Tayside Police attempting to trace tarpaulin and bag owner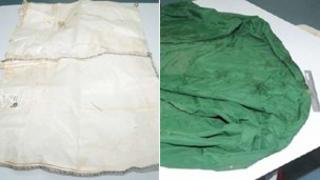 Detectives investigating a sexual assault on a 23-year-old woman in Perth are attempting to trace the owner of a green tarpaulin cover and builders bag.
Tayside police said the item were 'significant' to their enquiry.
The woman was attacked by a intruder in her home in Potershill Gardens in the Bridgend area of Perth on Monday 15 October.
Officers are not ruling out a link to another attack on a 68-year-old woman at a nearby home on the previous night.
Police said they were keen to speak anyone who believed the items may have belonged to them or who knew who their owners where.
The man responsible for attack on the woman was said to have been wearing a navy coloured scarf, a dark coloured beanie hat, a grey jumper, and khaki green waterproof trousers with a black belt.
He was also wearing khaki green boots and spoke with an English accent.