Dundee addict found guilty of murdering Ronald Fraser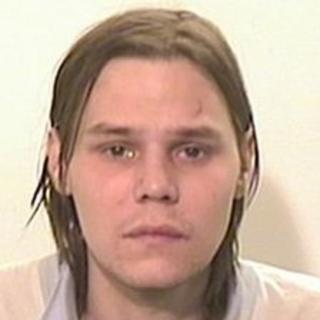 A heroin addict has been found guilty of murdering a Dundee man by stabbing him in the chest.
At the High Court in Livingston, Callum Tole was convicted of the murder of Ronald Fraser outside a flat in the Lochee area of Dundee on 22 April 2011.
Tole stabbed Mr Fraser following an argument on a common landing at Elders Court.
The 28-year-old was sentenced to life and he will serve a minimum of 18 years before being considered for parole.
The jury took just 30 minutes to find Tole guilty.
Pestered victim
During the trial, the jury was told that Mr Fraser got annoyed at Tole and his partner Natalie Buchan, who were both heavily under the influence of drugs.
The pair kept pestering him for cigarettes as they waited for a council joiner who came to open Ms Buchan's flat, which was next door to Mr Fraser's, after she became locked out.
Tole had passed out on the landing but when he woke up a scuffle broke out between him and Mr Fraser.
The jury later heard evidence that Mr Fraser's partner Lindsay Cook and council joiner Bob Ness witnessed the murder.
They were both heard battling vainly to keep Mr Fraser alive in a dramatic recording of a 999 call played to the jury.
However, Mr Fraser was beyond medical help because the knife had penetrated his heart, causing death within a few minutes.
'Appalling crime'
Passing sentence, temporary Judge Michael O'Grady highlighted the accused's previous convictions for dishonesty and violence, including one for carrying a Samurai sword in the street.
He said: "You have been convicted of an appalling crime. Having drugged yourself almost to a stupor, you became involved in a confrontation between you and a virtual stranger.
"Nothing can excuse or justify what followed. You chose to arm yourself with a deadly weapon and inflict dreadful death on a defenceless man before the very eyes of his partner.
"The terror and fear visited on Mr Fraser and the anguish of Miss Cook can hardly be imagined."
Life inevitable
The judge said he had noted with considerable concern throughout the trial that Tole had shown "not a hint of remorse" and "not a flicker of concern" for the victim.
He said Mr Fraser's death could not be undone, adding: "Nothing this court can do can turn back the clock or right wrongs. There's only one sentence I can impose and that's life imprisonment.
"It's for others, and by that I mean the Parole Board, to decide when, if ever, you should be released."
As he was being led to the cells, unrepentant Tole shouted: "Get a grip, man, happy days. I'm still alive: 18 years, that'll do for me. I'll only be 45 when I get out."
The family of Mr Fraser, who were present throughout the six-day trial, burst into tears of joy as the unanimous verdict was announced.
In a prepared statement read by his sister Karen Beattie outside court, the family branded Tole as "cowardly" and said they were delighted that justice had prevailed.