Replacement Stirlingshire bridge highlights bridge strikes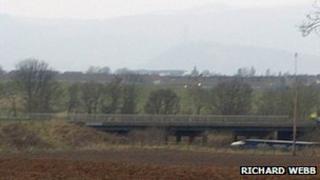 Transport Minister Keith Brown has used the opening of a replacement bridge near Stirling to highlight the number of vehicles hitting bridges in Scotland.
Mr Brown said bridge collisions cost the public purse £500,000 each year.
The new £2m replacement Chartershall bridge, over the M9, is designed to reduce the number of incidents.
The bridge it replaces was the most hit in Scotland. It was struck 17 times, resulting in its closure in 2006.
In Scotland about 10 road bridges are struck by vehicles each year, with many incidents involving high-sided vehicles.
Mr Brown said: "This replacement bridge will undoubtedly bring benefits, particularly to the local community including walkers, cyclists & equestrians from Sauchieburn Riding for the Disabled Centre.
"But it is also important help prevent future bridge strikes.
"That is why we continue to work with stakeholders such as road and freight hauliers, Network Rail, farming, ferries and ports, to remind high-sided vehicle drivers to plan their journeys in advance and carefully consider bridge signs on their approach.
"By doing this, we not only reduce the direct costs from bridge repairs, but also the indirect impact caused by traffic disruption while works are carried out.
"This also enables us to ensure journey times are more reliable for all road users."
Incidents falling
Transport Scotland launched the 'Strike it Out' campaign in 2008 to raise awareness of bridge strikes with the haulage industry, as well as highlighting the cost to the public of repairs and delays.
Since its introduction, there has been an 80% reduction in bridge strikes on trunk roads in Scotland.
Phil Flanders, director of the Road Haulage Association (RHA) Scotland, said: "Whilst the number of bridge strikes compared to journeys made is very small they can have a very serious knock-on effect and the RHA fully supports the Transport Scotland campaign to increase awareness amongst drivers of high vehicles."
Chris MacRae, head of policy, Scotland, for the Freight Transport Association (FTA), said: "FTA supports this initiative to raise awareness and provide routing information for vehicle operators.
"A main cause of bridge strikes has been an over reliance from some drivers on their sat-navs, which is why FTA worked closely with industry to produce a lorry-friendly unit.
"It is hoped that this will help end those all too familiar stories of lorry drivers coming unstuck after using sat-nav designed for cars."