Angus Council pledges to introduce a 'Living Wage'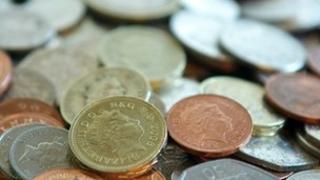 Angus Council has become the latest local authority to promise to introduce the "Living Wage" for its staff.
Council leaders have agreed to bring forward a proposal to introduce a minimum wage of £7.45 per hour.
The move follows a meeting of council heads from the authorities in Angus, Dundee city and Perth and Kinross.
Currently, the lowest paid members of staff receive the national legal minimum wage, which for employees aged 21 and over, is £6.19 per hour.
The Living Wage is calculated according to the basic cost of living in the UK and updated annually.
Good practice
The authority said a report, with further details on cost, numbers of employees affected and timescales, will now go before a meeting of the council seeking approval to apply the Living Wage in the county.
Councillor Iain Gaul said: "As the major employer in Angus, the council should lead the way in adopting good employment practice and we are determined that the Living Wage will be introduced in the county.
"The cost of living has never been higher and we recognise that our employees need support during these tough economic times.
"As well as making a significant difference to the lives of our lower-paid staff and their families, the introduction of the Living Wage will also have a positive impact on the local economy."