Dundee murder trial told blood splatters consistent with stabbing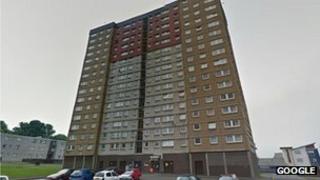 The trial of a heroin addict accused of a Dundee murder has been told that blood patterns found at the scene were consistent with a stabbing.
The High Court at Livingston heard forensic evidence that blood spatters found at the scene fitted with witness claims that Ronald Fraser was stabbed on the threshold of his Lochee flat.
Callum Tole is accused of murdering Mr Fraser on 22 April last year.
The 28-year-old, denies the charges. The trial continues.
Forensic scientist Gwen Teppett, of the Scottish Police Services Authority at Dundee, said blood spot patterns on the landing at Elders Court were consistent with a fight between two men which ended with one of them being stabbed to death.
Matching DNA
Ms Teppett said she also examined other blood spots and a bloody palm print leading from Mr Fraser's flat to a neighbouring property on the same floor.
DNA analysis showed that these matched the DNA profile of Mr Tole.
Other witnesses have told the jury that the 28-year-old was injured by Mr Fraser in a struggle shortly before the alleged stabbing and was bleeding from the nose and mouth.
Ms Teppett said there was only a one in more than a billion chance that the DNA extracted from the blood spots could have come from any other men.
She said tests of an envelope found on the bedroom floor of flat 9H, where Mr Tole was detained by police, found that it was stained with blood which DNA analysis showed was Mr Fraser's.
Violent attack
Callum Tole, a prisoner at Perth, denies murdering Mr Fraser on the common landing of the flats at Elders Court in Lochee.
He is alleged to have repeatedly punched Mr Fraser on the head and body and stabbed him on the body with a knife.
The jury was told that forensic scientists found a trail of bloodspots from the common landing leading through the hall and living room to a work unit in the kitchen.
Ms Teppett said: "The trail of blood spots in the flat appears to have been blood dripping from a bleeding injury."
More blood was found on a towel on the living room window ledge and the bathroom.
The court heard diluted blood was also found around the cold tap on the bathroom sink. All the droplets matched Mr Tole's DNA.
However, she said a blood smear and droplet found on a cutlery drawer in the kitchen were not analysed for DNA.