Former Royal Marine Allan Peach jailed for hair gel tub bomb blast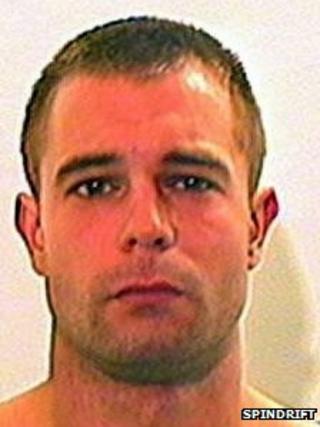 A former Royal Marine who caused a blast at a block of flats with a hair gel tub stuffed with explosives has been jailed for three years.
Allan Peach, 24, detonated two home-made bombs in Dundee on 7 June.
A court heard that he started experimenting with explosives after becoming dependant on the legal high N-CAT after his parents' separation.
At the High Court in Glasgow, Judge Lady Stacey said it was a "great pity" to see him in this situation.
Peach had previously admitted culpably and recklessly causing explosions to the risk of others.
He detonated two devices, the second of which blew a number of doors of their hinges. No-one was hurt during either incident.
Lady Stacey told Peach: "What you did was culpable and reckless. It could have caused a great deal more damaged than it actually did.
"I have to take a serious view of this.
"However, you are previously of good character and it is a great pity to see you in this situation because of drugs which you misused."
Prosecutor Paul Kearney had earlier told the court that Peach had bought several 1kg bags of explosive substances online.
He threw the first bomb into the garden area of a block of flats in Cullen Place in Dundee about 21:00 on 7 June.
Witnesses described hearing "a loud bang".
Peach then constructed another improvised device after getting his hands on a hair gel tub, which he cleaned out and filled with powder.
He drilled a hole into the lid and inserted a fuse wire.
Dressed in a green boiler suit, Peach was then allowed entry to another tenement in Cullen Place.
The explosion blew open the front doors of the ground and upper floor properties, forcing all the residents to leave their homes.
Defence advocate Lorraine Glancy said her client had taken the break-up of his parents "very badly indeed" and began using the legal high.
She said: "He now has an insight into the potentially dangerous consequences of his behaviour.
"His family remain deeply committed to helping him."