Falkirk social workers to host Tajikistani counterparts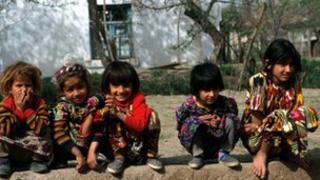 Social workers from Falkirk Council are to work with their counterparts in Tajikistan to help improve the country's children's services.
The European Union-backed scheme will see Tajikistani child care workers visit Falkirk Council to witness modern child care techniques first hand.
A grant of £560,000 has been made available by the EU in order to fund the project for the next three years.
The first visit will take place in Easter 2013.
The funding from the EU will allow the Tajikistani team to travel to Scotland without any cost to Falkirk Council or impact on the authority's current service provision.
International conference
Earlier this year, two members of the Falkirk team travelled to Tajikistan to share their practice at an international conference with ministers and representatives from UNICEF and the European Union.
They also offered practical training to staff in the Kishti Project and in orphanages.
The team has developed a series of practical help leaflets aimed at parents and carers of children on the Autistic Spectrum Disorder or who have a sensory issue.
These have been used by individuals and organisations across the world including the US, Russia and Africa.
'Baby homes'
Councillor Gerry Goldie, convener of housing and social care, said: "Young children in Tajikistan who require additional support are cared for in baby homes, something which has not been the case here for many years.
"It has been recognised for some time that institutional care for young children adversely affects their development and with our assistance, staff in Tajikistan are now able to develop care which is far more appropriate, including services to children with a disability, and a fostering service, and to expand the skills of their staff.
"The team are keen to share what they have learned and the knowledge that they have accumulated to date as far as possible and so we're pleased to be able to support this programme that will see Tajikistani workers visiting Falkirk and experiencing first hand some of the work we do both in the social work service and with our partner agencies."
The council said it hoped the experiences learned by the visiting child care workers would allow them to return to Tajikistan and establish their own services which will better suits the needs of children who until now have only experienced institutional care.