Partner 'watched Ronald Fraser's murder'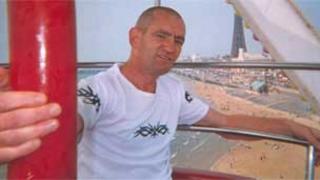 A woman has told a court of her horror at seeing her partner stabbed in the chest with a 12-inch kitchen knife at a Dundee flat.
At the High Court at Livingston, Lindsay Cook, 39, said Ronald Fraser died within minutes of being wounded.
Callum Tole, 30, a prisoner at Perth, denies murdering Mr Fraser on the common landing of his flat in Elders Court on 22 April, 2011.
The trial before Temporary Judge Michael O'Grady continues.
Ms Cook told the court Mr Fraser, 44, was angry at the behaviour of neighbour Natalie Buchan and the man now accused of his murder.
Locked out
She said Ms Buchan and Mr Tole had repeatedly knocked on his door pestering him for cigarettes, cigarette papers and Sellotape.
The pair, who were both under the influence of drugs, had been locked out of Ms Buchan's flat and were waiting outside for a joiner to came and let them in.
Mr Tole had fallen asleep on the landing and there was a strong and unpleasant smell, as if he had soiled himself.
When the 30 year old woke up, she said, a scuffle broke out between him and Mr Fraser.
Large blade
Ms Cook said: "They were swinging punches at each other but they couldn't reach because of me. Suddenly Callum Tole broke away and ran into Natalie Buchan's flat because the joiner had opened the door.
"He came out with a knife, it was like a kitchen knife about 12-inches long. Then Callum Tole came at Ronald. It just happened that quick."
She said Mr Tole repeatedly attacked Mr Fraser with the weapon.
"I think it was the third time he stabbed Ronald in the chest just at breastbone," she added.
Turned grey
She said she was "hysterical" as she helped Mr Fraser along the hall corridor to his living room.
"By the time I got him from the front door up the hallway he was getting unconscious. He was losing blood and he just went grey."
When asked about the 999 call she made to summon an ambulance, Ms Cook burst into tears.
She said the joiner, who had been fixing the door of Natalie Buchan's flat, had to take over the call because the 999 operator could not understand what she was saying.
She added: "I was told to press Ronald's chest hard to stem the blood. The police came in just seconds later."
Despite the efforts of the ambulance crews, Mr Fraser was pronounced dead at the scene.