Perth prisoner has sentence extended for laundry attack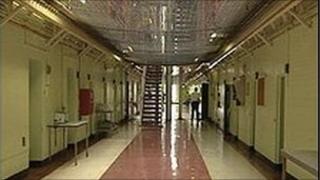 An inmate who attacked a prison officer with a bin because he was not allowed to work in the prison laundry has had his sentence extended.
At Perth Sheriff Court Michael Williams admitted lashing and attacking Warder Roderick Smith after being declined the job on 9 August.
The 31-year-old hurled a bucket at Mr Smith and punching him before being wrestled to the ground at Perth Prison.
Sheriff Valerie Johnston added seven months and 15 days to his sentence.
Fiscal depute John Malpass told the court: "The accused was allocated a work party for the afternoon and wasn't happy with his assignment.
"He made that known to the complainer, who had decided. He began shouting at the complainer, picked up a plastic bin and threw it towards him.
"The complainer put his arm to the rear of his back to usher him towards his cell. The accused reacted to that. He lifted his right arm and punched the complainer on the side of his face."
Changed duties
Williams' solicitor said: "The background is that the accused and the complainer had not really got on. On the day in question my client was speaking to another member of staff about work.
"He was told he would be doing laundry duties, he was then told they had changed their minds and he would now be doing other work. Words were exchanged.
"My client felt that Mr Smith was laughing at him. He accepts he picked up the bin and threw it, he didn't mean to hit anyone but threw it for a reaction and to be put in the segregation unit."
She said that Williams felt he had been "nipped" during the ensuing struggle, but accepted he had been "in a huff" because he was not being allowed laundry duties.