Dundee print factory plans to make 43 people redundant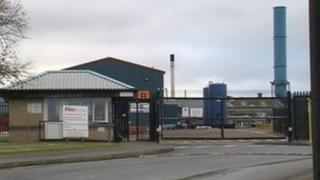 A factory in Dundee, which manufactures printing supplies, plans to make 43 staff redundant as its parent company seeks to stem a £2.5m loss for 2012.
Day International, which is part of the Flint Group, currently employs 167 people at its Old Glamis Road site in the city.
The group said it was suffering as a result of a downturn in the print media industry.
A 30-day consultation on the proposed redundancies has now been launched.
Flint Group said as a consequence of the sector downturn, the Dundee factory was now operating at less than 50% capacity, which they said was not sustainable.
As well as the redundancies, the firm also hopes to move staff to a five day shift pattern.
Established employer
Flint Group operations manager at Dundee, David Wood said: "It is extremely regrettable that we have to consult with staff over these potential job losses, but the current financial losses incurred at the site cannot continue and need to be addressed quickly in order to align staffing with current demand and make this a viable business.
"We have been established as an employer in Dundee for 50 years and have invested significantly in the plant in the past.
"We are committed to getting the operation back on track by working hard to implement our business recovery plan and will seek to retain as many jobs as possible."
Flint Group was keen to stress that the Dundee factory had a viable future.
The Vice President of Sales for Print Media Europe, Wolfgang Blumschein, said: "I am confident that service to our customers will not be impacted and can confirm that the Dundee operation will continue to have sufficient capacity to meet projected longer term demand and support the current product portfolio."