Abertay University to host light show based on sun data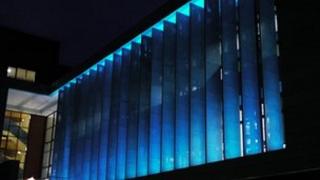 Abertay University in Dundee is to be turned into the set of a giant light show based on the solar system.
Both Abertay and Dundee universities have been working with computer programmers, a sound designer and solar physics scientists to create the massive visual display.
The spectacle is based on data taken from the Solar Dynamics Observatory.
The 100,000 Lux show will be created on the outside of Abertay's Centre for Excellence in Computer Games Education.
The show is the first ever collaboration between NEoN Digital Arts Festival and Dundee Science Festival.
It will see a huge array of lights flash and change colours as they are respond to the data from the observatory.
A soundtrack has also been specially created to accompany the lights.
Unique Challenge
Ian Reynolds, Abertay graduate and co-founder game maker of Quartic Llama, has been working to programme the LEDs needed for the display.
He said: "100,000 Lux is going to be an exciting and very different event, we've certainly never had to programme an entire building's light system before.
"When we graduated from Abertay and set up Quartic Llama, we were keen to create a mix of beautiful games and one-off interactive art events.
"NEoN Festival is a great first step for this, but there's definitely potential for more large-scale digital art displays and interactive games.
"It's a unique opportunity for the public to see the Abertay University building transformed, all taken from solar science data and accompanied by beautiful audio. We're very excited to see everyone's hard work brought to life."
The event starts at 18:30 on Wednesday.