Stirling rail signallers to strike over shift row, RMT says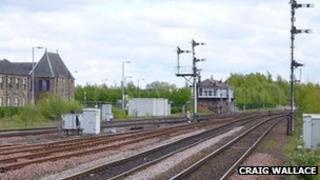 Rail signallers in the Stirling area are to go on strike on Saturday as part of a dispute over rosters, the RMT union has said.
A 24-hour walkout will begin at 23:59 on Friday 9 November in a row over 12-hour working shifts.
RMT members at Stirling Middle, Stirling North and Dunblane will be taking part in the industrial action.
Network Rail said they had sufficient staff to man the signals and services would not be affected.
The RMT are calling for staff to be moved to 12-hour rosters, which they claim will deliver a safer and more efficient service.
Union Determination
The move would see the number of days worked by staff change from five to three but the length of their shift go from eight hours to 12.
RMT General Secretary Bob Crow said: "Management should be in no doubt of as to RMT's determination to achieve 12-hour rosters for our members.
"A 100% vote for strike action plus a near 100% vote in favour of a 12-hour roster system cannot and should not be ignored.
"This dispute has been on-going for many months and it is a tribute to the determination and solidarity of RMT members that they have stood firm and are now geared up to support the next period of action which will be the first of a series of strikes."
Committed to talks
The changes to working patterns have been rejected by Network Rail, which said they would add around £50,000 a year in operating costs.
A Network Rail spokesman said: "We remain committed to finding a solution to the current dispute and will continue to engage in talks with the RMT, and through ACAS.
"We are confident we can run a comprehensive service for passengers should industrial action take place and that the travelling public will not be inconvenienced by the RMT.
"Meeting the union's demand that signallers begin to work fewer days each week would mean operating a less efficient and more expensive railway."