Angus train derailment 'may have been deliberate'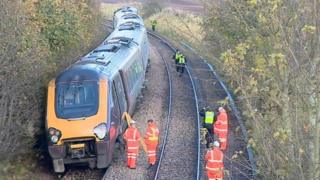 British Transport Police have said they have uncovered evidence that a train that came off the track near Inverkeilor in Angus may have been deliberately derailed.
Officers searching the scene of the incident have discovered an obstruction, which they believe was placed there deliberately.
The 08.04 CrossCountry Trains service from Edinburgh to Aberdeen came off the tracks at about 10.00 on Sunday.
An investigation has now been launched.
High-profile patrols
Det Insp Kevin McCormack, of British Transport Police, said: "Fortunately, no-one was seriously injured during the incident and we now believe that the object found at the scene of the derailment must have been put there intentionally by someone.
"I am therefore anxious to speak with anyone who saw anyone acting suspiciously in the area of Inverkeilor between Saturday night and Sunday morning."
None of the 36 passengers on-board the train at the time of the incident was injured, however, the driver, a 49-year-old man, suffered a minor head knock and was treated by paramedics.
British Transport Police said they are working with their counterparts from Tayside Police and the rail industry to investigate the incident and are carrying out additional high-profile patrols in the area.
An incident vehicle has remained at the scene of the incident, so members of the public can contact officers with any information relevant to the investigation.