Alexander Dennis announces orders for 1,000 buses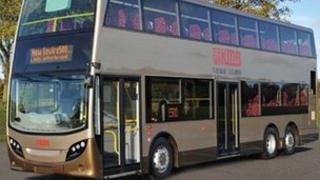 Alexander Dennis Limited (ADL), the Falkirk-based bus and coach building firm, has announced new orders worth £220m.
In all nearly 1,000 buses in total will be built over the next 18 months.
ADL said 640 vehicles are bound for Hong Kong, many for assembly in China. The export deals represent contracts worth £150m.
The work will sustain 900 manufacturing jobs in central Scotland, with plants also in Guildford and Scarborough.
The orders represent slightly less than half of the annual turnover of the manufacturer.
Operators have been attracted by the company's new range of fuel-efficient diesel buses, or hybrid diesel and electric buses.
New designs
The Falkirk buses' fuel efficiency has improved by 60%, and the next generation are expected to reach a 70% saving, including technology which only uses electricity for buses' many stops and starts.
One of the designs, intended for overseas markets, is for a three-axle double-deck bus, with capacity for 175 people.
Colin Robertson, ADL's chief executive, said: "In total, these orders represent a massive vote of confidence in our business and our ability to deliver lighter, more fuel-efficient buses, designed specifically to meet the different demands of operators around the world.
"Our customers have played a vital role in this process and will reap the benefits of a collaborative approach."
He added: "As a business, our total focus is on developing and bringing to market a range of products that raise the bar on fuel efficiency, reduced emissions, reliability, maintainability and best-in-class whole life costs."
There is also to be a new model of the smaller hybrid-powered Enviro200, called the Enviro250.
Of those, 150 are going to a range of British bus operators, with a value of £50m.
A further design of midi-bus, taking around 40 passengers, has won more than £20m of orders.
That design will, in future, be targeted at the American and Canadian markets, in a partnership being developed with a major Canadian manufacturer.
The announcement on several orders was made on Tuesday at the Eurobus Expo show in Birmingham.