Dundee murder trial delayed after accused sacks defence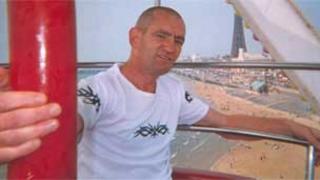 The trial of an alleged killer has been delayed after the accused sacked his defence counsel.
Callum Tole, 30, was due to be tried by a jury at the High Court in Livingston for the murder of Ronald Fraser.
But members of the public who turned up for jury service were sent home and the case was adjourned.
Mr Tole denies murdering Mr Fraser on the common landing of flats in Elders Court in the Lochee area of Dundee, on 22 April last year.
The indictment alleges that Mr Tole assaulted the 44-year-old, repeatedly punched him on his head and body and struck him on his body with a knife.
Police found Mr Fraser's body when they were called to reports of a disturbance at the property.
Instruction difficulties
Mr Fraser, who lived alone, had serious injuries and died at the scene in in Elders Court.
When Callum Tole's case called, defence counsel Iain Paterson warned the court that he was having "difficulties" obtaining instructions from his client.
He said: "There is a problem. He was in Inverness Prison this morning. He's not acting as normal. He has not had any food and he's suffering diabetes."
Temporary Judge Michael O'Grady issued a stern warning from the bench about any attempt to disrupt the trial.
He told Mr Paterson: "I've been in this court for many years in many capacities. In that time I've found it's not unknown from time to time for accused persons to consider they might disrupt proceedings or prevent proceedings by engaging in what might be described as tactical positions.
"Let me make it absolutely clear I'm not suggesting there is a problem with Mr Tole, but you may make clear to him on my behalf that this trial will commence in this sitting with or without his co-operation."
Leave granted
Following a short adjournment Mr Paterson returned to tell the judge: "Unfortunately, instructions have been withdrawn and I ask the court's permission to withdraw."
Judge O'Grady told him: "This is no reflection on you Mr Paterson. I'll grant you leave to withdraw."
He adjourned the case for the day to give defence lawyer Paula Mill the opportunity to seek to instruct alternative counsel.
He added: "It would seem to me to be pointless for the jury to come tomorrow, therefore we'll call the matter tomorrow to ascertain what the position is.
"Again those instructing you will convey my position to Mr Tole. This case will start with or without his co-operation. If he refuses to instruct counsel this case will still proceed."