Dundee man faces jail over 'extreme pornography' charges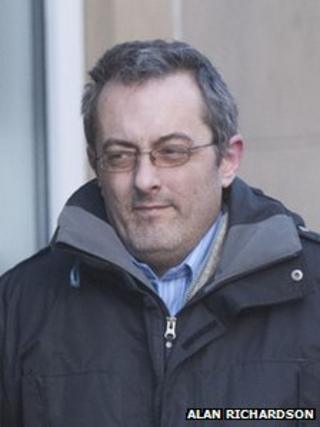 A Dundee man found with a cache of "extreme pornography" is facing jail.
Steven Ryder was found with more than 4,000 still images and 90 minutes of video on his computers depicting child abuse and bestiality.
At Dundee Sheriff Court, the 45-year-old admitted being in possession of "extreme pornography, namely images of bestiality" and to downloading indecent images of children.
Sheriff Richard Davidson deferred sentence until next week.
Ryder admitted possessing the material between 2 February 2000 and 19 March 2011.
Thousands of images
He also pleaded guilty on indictment to charges of taking or making indecent photographs of children between 11 June 2002 and 1 April 2011.
Fiscal depute Trina Sinclair told Dundee Sheriff Court: "There are over 4,000 images taken from various computer parts. There are also video clips recovered.
"There are 11 clips in total with a total duration of one hour and 37 minutes. They are assessed as being between levels one and five on the Copine scale.
"A full narrative of the circumstances is not yet fully agreed. I'd ask that the case is continued for that narrative to be completed."
Ryder's not guilty plea to a charge of possessing indecent images of children with a view to distributing them was accepted by the Crown.
David Duncan, defending, asked that Ryder be released on bail ahead of his sentencing date.
'Sample' prepared
Sheriff Richard Davidson deferred sentence until next week for the Crown to prepare a full narration of the background to Ryder's crime.
He also asked police to prepare a "sample" of the images for him and Ryder's defence lawyer to view ahead of sentencing.
Sheriff Davidson said: "In order that the facts can be properly before the court I will continue this case for one week.
"It is necessary to view at least a sample of the material involved. In the meantime your bail will be continued."
The 45-year-old is one of the first people to be convicted of an "extreme pornography" offence in Scotland after new laws banning its possession came into effect last March.
Prior to that only possessing it with intent to sell or make extreme material was an offence in Scotland.