Aberdeen firms asked to invest in Tayside redevelopment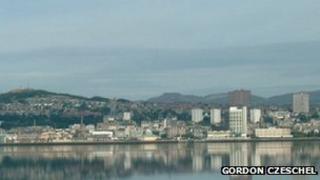 Businesses in Aberdeen are to be courted by Scottish Enterprise and Dundee City Council in an effort to get them to invest in Tayside.
Firms are being encouraged to support the regeneration of Dundee's Waterfront.
A team from the project is visiting their northern neighbour to highlight the investment opportunities the 240-hectare redevelopment will bring.
Dundee Waterfront said the project has the potential to benefit both cities.
The £1 billion redevelopment is the second largest regeneration project in Scotland.
Collaborative projects
Mike Galloway, Dundee's director of city development, said: "There is already a great deal of co-operation between the two cities, but there is considerable potential to generate more investment and more business for everyone.
"Obvious areas of collaboration include: the growing renewables sector, life sciences, decommissioning projects, integrated tourism marketing and infrastructure investment.
"Proposed developments in and around Dundee, such as the V&A at Dundee, the new railway station and Fife and Angus's golf assets, are good examples of where we can all work together to create more wealth, to the benefit of both cities and regional economies."
The plans to transform Dundee Waterfront have already attracted £300m of committed investment.
The flagship project is the £45 million V&A at Dundee, which is due to open in 2015.
Onward journeys
The V&A at Dundee is expected to generate 500,000 additional visitors to the city during its first year, then settling at more than 300,000 annually.
Dundee Waterfront is hoping that by developing close co-operation between both cities, many of the visitors could be encouraged to extend their stay by travelling to Aberdeen and the North East.
Dundee City Council has already approved plans for a new £14m railway station, along with a hotel, retail and office complex to service the expected increase in economic growth during the next five years.
The authority expects over 9000 new jobs to be created as a result of the wave of new investment in the city.
Revenue generation
Mike Galloway added: "We have already secured investment worth more than £300m and are well ahead with our plans to transform the city.
"Looking forward to the projected increase in investment, job creation and visitor numbers, it is clear Dundee is going to generate hundreds of millions of pounds of additional revenue.
"By working with businesses in Aberdeen and the North East we have the potential to increase that revenue dramatically."