Dundee scientists work on bowel cancer gene 'trick'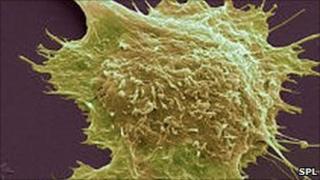 A bowel cancer treatment could be improved as a result of research at a Scottish university.
Scientists in Dundee examined hundreds of molecules to try to predict whether bowel cancer patients can be successfully treated with chemotherapy.
Their work focused on the K-RAS gene which they found could be "tricked" into behaving like cells with a damaged form of the gene.
The study was for the National Cancer Research Institute (NCRI) in Liverpool.
Bowel cancer is one of the most commonly diagnosed cancers in the UK with more than 41,000 people diagnosed with the disease in the UK each year, the study said.
Dr Gillian Smith, research author, said: "Our research reveals that changing the behaviour of K-RAS boosts the effect of certain drugs to kill bowel cancer cells.
"This research is at an early stage, but if we're able to prove these results in larger studies, the findings could provide new scope for bowel cancer treatments targeting the K-RAS gene.
"Our findings are particularly interesting because there is already a test available in the clinic that can identify which patients have a faulty version of K-RAS."
Dr Jane Cope, director of the NCRI, said: "This is exciting research that adds to the dramatic progress made over the past 30 years in tackling bowel cancer.
"People diagnosed today are twice as likely to survive for at least 10 years as those diagnosed in the 1970s.
"We hope these findings will one day help scientists develop better ways to treat and monitor the disease in the future, ultimately increasing survival from cancer."