Arbroath shop workers hold man who looked like runaway convict Lee Cyrus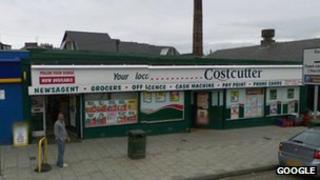 Shop staff performed a citizen's arrest thinking they had caught runaway criminal Lee Cyrus, only to discover the man was an innocent customer.
The unfortunate man was shopping at a Costcutter store in Arbroath when he was the victim of mistaken identity.
Shop workers cornered him while they dialled the police.
When Tayside Police officers arrived they got the suspect to take off his shirt to check for a tattoo, before realising they had the wrong man.
Cyrus has been on the run from an open prison in Boston, Lincolnshire, where he was serving a life sentence for robbery, since 9 October.
Ongoing investigation
He has convictions for attacking a pensioner and of having sex with an underage girl.
Tayside Police have also not ruled him out of their investigation into a sexual assault in Perth on 15 October.
Faisal Naseem, 23, who owns the shop on Montrose Road, explained what happened with the unfortunate lookalike.
He said: "We looked at him on the CCTV because he'd been coming in for a few days buying bits and bobs.
"We showed police the images and they said they could see where we were coming from. They asked us to check for a scar next time he came in.
"All the customers thought it was him as well and everyone was phoning 999. He tried to get out the shop but I just stood in front of him."
'So embarrassing'
The man who was stopped, Peter Williamson, 35, from Arbroath, said at first he challenged Mr Naseem over why he wanted proof of identity.
Mr Williamson said: "Then the police came in and did all their checks. It was horrible - all the customers were standing watching me.
"It was so embarrassing, people thinking I was a dangerous criminal. I was just an innocent person buying a can of beer.
"I didn't realise what was going on but now when I look at the posters I can see a wee bit of a resemblance."
A Tayside Police spokeswoman said: "Tayside Police can confirm that officers attended at a shop in Arbroath around 17:15 on Wednesday following a reported sighting of absconder Lee Cyrus.
"It was quickly confirmed it was not him."
Police have distributed wanted posters featuring Cyrus's image as part of cross country efforts to trace him.
Cyrus, from Preston, is described as about 5'11" tall, of stocky build, with cropped or shaved hair and hazel coloured eyes.
Tayside Police said they had received more than 100 possible sightings of Cyrus in the local area but none had been confirmed.