Refurbishment of Dundee bridge receives commendation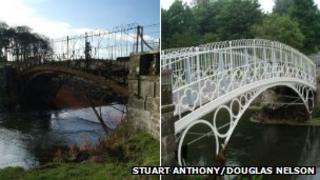 The refurbishment of one of Scotland's oldest iron bridges has received recognition from the country's civil engineers.
Linlathen East Iron Bridge, on the outskirts of Dundee, has been awarded a commendation in the 2012 Saltire Awards for Civil Engineering.
The bridge, which crosses the Dighty Burn north of Broughty Ferry, was built in about 1796.
It is one of five engineering projects given a commendation this year.
The Saltire Society was founded in 1936 to improve the quality of life in Scotland.
Full restoration
The Linlathen East Iron Bridge, which is thought to be the oldest constructed from iron in Scotland, had been left without maintenance for almost a century and had fallen victim to the elements and vandalism, with experts describing it as being in a "terminal condition".
Following a £400,000 project, it has been restored to its former glory.
In bestowing the award the judging panel said: "Linlathen Bridge would hardly span the carriageway of a motorway but its heritage spans over two hundred years and it is fitting that such longevity is rewarded by a project team prepared to devote their fullest attention to ensuring that every detail of the bridge was faithfully restored to its original glory."
Skilled engineers
The Saltire Society Awards, which have been running for more than 30 years, are made annually to recognise excellence in civil engineering in Scotland.
Sara Thiam, director of the Institution of Civil Engineers (ICE) in Scotland, said the awards showed the skill and expertise of engineering Scotland.
She said: "It's not always about the big projects and something like the Linlathen East Bridge shows how civil engineering is playing its part in all aspects of society."