Angus tractor drivers told to clean up muddy roads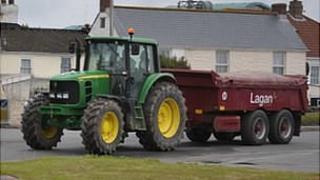 Drivers of heavy plant and agricultural vehicles in Angus have been urged to clean up after using the area's roads.
Tayside Police said they had received a string of complaints from the public about mud left behind by the vehicles.
The force said it was an annual problem and not unique to Angus, but was potentially very hazardous.
Officers warned heavy plant and tractor drivers that failing to clean up and remove mud from the road was an offence under the Roads (Scotland) Act.
Insp Grant Edward, head of roads policing, urged all farmers and contractors to take heed.
'Caught unaware'
He said: ''While we appreciate that farmers and contractors need to move their machines from field to field, we are simply asking that any mess left on the road is cleared away as soon as possible.
''This may seem a trivial matter, but the consequences can be dire for drivers and motorcyclists, who can be caught unaware by mud on the road and potentially lose control of their vehicle.
''My advice to all operators of agricultural machines is simple - remember your responsibility and take action."
He said that putting out warning signs about mud on the road was good practice, but did not not entitle anyone to leave mud on the road for hours or even days.
Driver's liabilities
"Neither does it relieve those responsible of any liability in the event of an incident," added Insp Edward.
"Leaving the clearing up until the end of the day is not acceptable and could result in formal police action being taken."
The force said it had been working with Angus Council to deal with any instances of mud on the road.
It said where the authority was forced to clean the road, the costs would then be recovered from the offender and, where necessary, tractor drivers and operators would be charged and reported.