New appeal for missing Killin sailor Timothy MacColl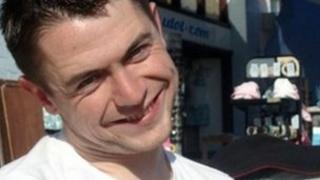 The wife of a Stirlingshire sailor who went missing five months ago while ashore in Dubai has made an emotional appeal for him to be found.
Timothy MacColl, 28, who was serving on HMS Westminster, disappeared during visit to the United Arab Emirates.
The sailor was last seen getting into a taxi taking him back to the ship at Port Rashid on 27 May.
At a press conference in Portsmouth his wife, Rachael, appealed for information about his whereabouts.
At the time of Leading Seaman MacColl's disappearance, his wife was 20 weeks pregnant with their third child, Eriskay, who has since been born.
Family man
The couple, who now live in Gosport, Hampshire, also have a son, Cameron, and daughter, Skye.
Mrs MacColl, 25, said: "My husband is not just a sailor; he's an adoring father, son and uncle. He is my soul mate, my first love and best friend.
"We have been together since we were teenagers; we have grown together, got married and started a family.
"Days before my husband went missing we had celebrated our sixth wedding anniversary and his present from me were scan pictures of our soon-to-be third child who I had just seen at our 20-week scan."
Describing the moment she found out that her husband was missing, she said given his career, she knew there was a possibility such a thing could occur, but thought that it would never happen to her.
Continued hope
She added: "When that knock came I collapsed for I was told that my husband wasn't dead or injured but missing. My head couldn't understand what they meant.
"For the last five months I have sat at home unable to give up hope, unable to move forward, unable to grieve and constantly dreading the fact that the knock on the door might or might not ever come again."
She said she hoped the appeal would help circulate her husband's image and that that might help stir someone's memory.
She added: "This has been the longest deployment so far but unlike others there's no rainbow or homecoming at the end."
Mrs MacColl was supported at the press conference by family members including several who had travelled down from Killin, Stirlingshire, where her husband grew up.