Monitored Dundee sex offender jailed for sex attack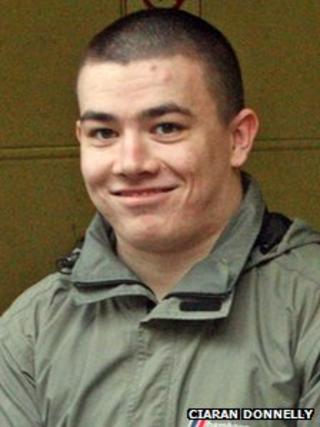 A high risk sex offender who indecently assaulted a woman while being monitored by police has been jailed for six years and four months.
Thomas Shannon attacked his victim shortly after he was re-housed in Dundee following his release from a previous jail sentence.
The High Court in Edinburgh heard police had bugged his flat as he was assessed as "very high risk".
Judge Lord Doherty told Shannon he was a serious danger to the public.
The 21-year-old was freed from custody in January this year and Tayside police had launched Operation Jubilee to attempt to manage his release.
Visiting boyfriend
Officers had installed a covert remote listening device in his flat in the Lochee area of Dundee.
The woman who Shannon attacked was having a relationship with a man who lived in the same tenement block.
She visited the block on 12 February but did not have a key fob and began ringing buzzers to get in. Shannon responded and allowed her access to the close.
The woman later went to speak to Shannon who invited her in and began making complementary remarks about her breasts and body.
Advocate depute Gillian Wade said Shannon's behaviour then altered significantly and he began kissing, cuddling and molesting the woman.
He told her: "You know you want it. I've been in prison for three years."
Shannon then exposed himself and demanded the woman touch him.
Pleaded to escape
Police officers who were monitoring the listening device could hear her say: "No, no."
The victim pleaded with Shannon to let her go and she eventually managed to get back to her boyfriend's flat.
The 21-year-old was later interviewed by police and admitted being in the woman's company and breaching his sexual offences prevention order (SOPO), but initially denied sexually assaulting her.
At an earlier hearing Shannon admitted breaching the SOPO and indecently assaulting the woman at his flat.
Lord Doherty told the 21-year-old it was "very clear you are a serious danger to the public and in particular to women."
The judge said: "You have pled guilty to very serious offences."
"You had recently been released from detention. You were subject to a Sexual Offences Prevention Order which prohibited you from following, touching, approaching or communicating with any female except in certain specified circumstances.
"You breached that order and carried out the sexual assault, both aggravated by the record of your previous offending."
Lord Doherty ordered that Shannon should be supervised for a further eight years and warned that if he failed to comply with licence conditions during that period he could face being returned to prison.
He also told Shannon that he would be on the sex offenders' register for the rest of his life.