Andrew Fairlie at Gleneagles tops Sunday Times Food List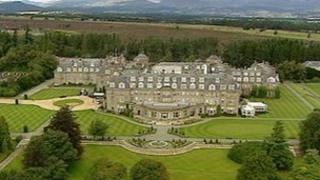 Scotland's only two-Michelin-starred restaurant has topped a list of the 100 best eateries in Britain.
Andrew Fairlie at Gleneagles has come first in this year's Sunday Times Food List.
The restaurant has steadily improved its position since opening 11 years ago, coming seventh in the 2011 list and eighth the previous year.
Chef Fairlie said the success was down to concentrating on good food rather than gimmicks and fads.
The Sunday Times Food List ranks Britain's top 100 restaurants strictly by the quality of their food, and is compiled from marks and comments from real diners.
Quite humbling
This year's list has been compiled from over 75,000 individual reports.
Fairlie said: "In a country with such a rapidly expanding list of great restaurants, this is a real honour and actually quite humbling.
"The award is all the more meaningful as it is really difficult to get recognition at this level outside London. Apparently, we are the first restaurant north of Oxford to even reach the top five.
"I put this success down to our determination to be consistent in service and in cooking, and to not being distracted by fads."
He added that the award was "a testament to the hard work of my brilliantly talented and loyal team, and our efforts to constantly improve and move forward".