Memorial unveiled for Kinross witchcraft victims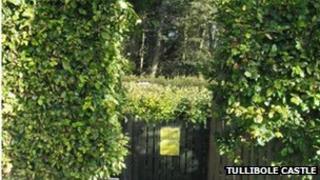 A memorial to 11 people executed for witchcraft in Kinross has been unveiled at the home of those who condemned them.
The Witches Maze at Tullibole Castle commemorates the victims of the Crook of Devon witch trials in 1662.
The castle was once home to William Halliday and his son John who held court over the 'covens' in the village.
Lord Moncrieff, who now owns Tullibole, commissioned the maze as there is no memorial in Crook of Devon.
In 1662 the court sat five times and resulted in the death of 11 suspected witches.
Those who survived the trials were taken to a small mound near the current village hall and strangled by the common hangman and their bodies thrown on a fire.
Victims remembered
Lord Moncreiff commenced on the maze in 2003. The finished memorial is a circle 33m (100ft) wide and consists of 2,000 beach trees.
At the centre of the maze is a one and a half ton elaborate sandstone pillar, with the names of the victims etched on it.
The five sided pillar was created by Gillian Forbes, a stone carver from Path of Condie.
Lord Moncreiff said: "I dislike public art that has nothing to say and commissioned Gillian because I believe she understands the sensitivity of the task.
"It is my hope that the memorial will also question our understanding of the past and issues of blame and judgement in modern day society."