Loganair's withdrawal from Dundee disappointing, says MP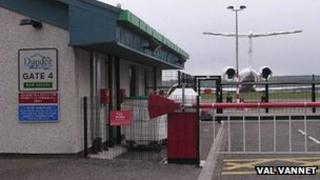 A Dundee MP has described Scottish airline Loganair's decision to withdraw from the city as disappointing.
Loganair it is to withdraw its scheduled services from Dundee airport as of December.
The company said it was in response to a decline in passenger numbers.
Loganair currently flies to Belfast and Birmingham from Dundee. It's understood there will not be any redundancies despite the cut to services.
Dundee West MP Jim McGovern has said it was disappointing that Loganair had decided to withdraw the services.
He said: "This is extremely disappointing news for Dundee airport and for the city. Ensuring that the city is connected to cities across the UK and Europe is vital to Dundee's economy.
"Any reduction in services is a concern, and I sincerely hope that the airport and Dundee City Council have a plan to see passenger numbers increase and more routes opened."
Full refund
A Loganair spokesman said: "It is with great regret that we announce the withdrawal of services from Dundee Airport to Belfast and Birmingham.
"We will continue to operate the two routes until Sunday, 2 December, 2012.
"Customers who have made bookings to travel on these services after this date will be entitled to either change their flights to an equivalent routing with Loganair franchise partner Flybe, or receive a full refund via the travel agent or airline where the original reservation was made.
Dundee airport is operated by Highland and Islands Airports Ltd (HIAL). Their managing director, Inglis Lyon, called it a "disappointing" announcement.
"We have done everything in our power to support and promote these routes, through joint marketing efforts and by working with Loganair to reduce their operating costs.
"However, passenger demand was simply too low, at a time of strong competition, to make these routes commercially viable.
"Ultimately, routes can only survive if there is sufficient inbound and outbound demand."
Loganair said it was committed to the region and would continue to run their aviation engineering base at Dundee Airport and that staff members affected by the cut in services would be offered continued employment within the airline.