Michael Marra: Tributes paid after death of Scottish singer-songwriter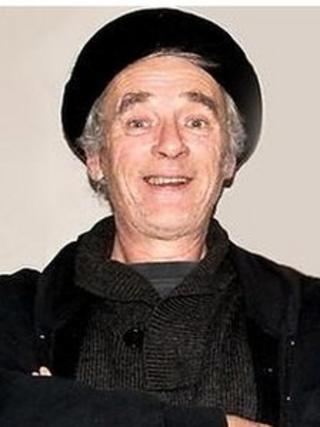 Tributes have been paid to singer-songwriter Michael Marra, who has died in hospital in Dundee at the age of 60.
Mr Marra passed away on Tuesday night at Ninewells Hospital. It is believed he had been ill for some time.
Born in Dundee in 1952, he rose to fame in the 1980s as a solo performer and became one of Scotland's most prolific songwriters.
He was also well known for his theatre work, writing the music for several plays and his own operetta.
He is survived by his wife Peggy and children Alice and Matthew who, as part of the band Hazey Janes, toured Scotland with their father a few months ago.
Dundee's story
In a statement, his family said Marra's songs are his legacy.
"We are devastated by our sudden loss but are comforted by the kind words of so many people who loved Michael, his music and his spirit.
"His life's work has told our family story, and the story of his beloved Dundee. Michael's songs are his legacy, given to Scotland by one wee boy from Lochee."
Mr Marra was brought up in the Lochee area of Dundee, the son of a printer and a schoolteacher.
After being expelled from school at the age of 14 he took on a variety of jobs, including message boy in the printing trade, apprentice electrician, apprentice baker and builder's labourer.
Theatre work
He formed his first band, Hen's Teeth, in 1971, but it was as a solo artist that he became well known. His first solo album, The Midas Touch, brought him wider fame in 1980.
He worked extensively in theatre, writing the music for the play The Fairly Mak Ye Work. More recently, he composed songs for The Mill Lavvies, which premiered at Dundee Rep Theatre last month.
He also composed his own operetta, If The Moon Can Be Believed.
Mr Marra was a regular performer at Glasgow's Celtic Connnection's festival. Its director, Donald Shaw, said he was a unique talent who would be sorely missed.
He said: "He was just one of the great humanist people. Very soft spoken and great to be around.
"His songs have so much heart and he had so much insight into the Scottish psyche.
"He just went along, did his thing, turned up, sang his songs.
"I feel sad, but I also feel elated because in 20 years people are going to say, why didn't people give him his credit when he was alive? People will realise what a legend he was musically."
'Sense of belonging'
Mr Shaw also credited Mr Marra with helping rejuvenate folk music in Scotland.
"He was a big part of that and he was so generous in spirit to young people and music," he added.
"The last time I saw him, we had a great conversation about him spending a week in the jail in Dundee, teaching inmates the guitar and singing songs and trying to give them a sense of belonging.
"I think he's played a big part of the renaissance of music in this country."
Singer Eddi Reader, who performed with him on many occasions, paid tribute to him on Twitter.
She said: "God bless Michael Marra, songwriting GENIUS and wonderful, wonderful man. So kind to me, my heart is breaking dear God."
Mr Marra was also a passionate football fan and once wrote a song about former Dundee United player Hamish McAlpine, called Hamish the Goalie.