Police in Perth sweep hill in 'prisoner hunt'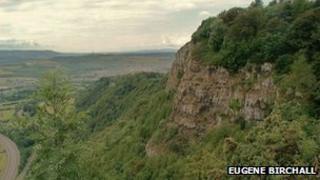 Tayside Police are continuing to search for a suspicious male who was seen on the outskirts of Perth, believed to be an absconded convicted robber.
The search is focused on woodlands around Kinnoull Hill.
A large police presence has been in the area since this morning, including the Strathclyde Police helicopter.
The force would not confirm if the search was linked to the disappearance of Lee Cyrus, 47, who absconded from an open prison in Lincolnshire.
Tayside police said about 30 police officers were involved in the search at and around Kinnoull Hill, just north of the Friarton Bridge.
The search includes trained officers, dog handlers and dogs and the Tayside Police Search and Rescue Team, as well as local community officers.
Police description
A police spokeswoman said the man was spotted by an off-duty police officer about 07:20 this morning and have released a description.
He is described as having a medium build, with a round face and is clean shaven.
At the time he wore muddy dark coloured waterproofs and a beanie hat. He was carrying a rucksack style bag.
Detectives have warned the public not to approach Lee Cyrus, who is also known as Ivan Leach.
Cyrus, from Preston, failed to return to North Sea Camp open prison in Boston on 9 October. It is thought he could be in the Tayside area of Scotland.
He is described as white, around 5ft 11in and stocky with cropped hair and brown eyes.