Perthshire Loch welcomes first beaver in 400 years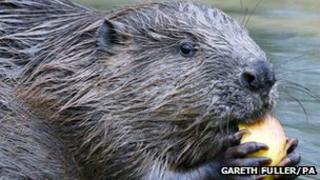 A Perthshire loch has become home to a beaver for the first time in about 400 years.
The Scottish Wildlife Trust (SWT) has been monitoring the animal at the Loch of the Lowes since it was first spotted in August.
It is thought the beaver may be related to one of many beavers in the River Tay catchment that have escaped or were illegally released from captivity.
The animals became extinct in the UK towards the end of the 16th century.
The Trust, with the Tayside Beaver Study Group, has been observing the beaver at the loch since it first appeared during the summer.
Beavers were hunted to extinction in the 1500s. The current wild beaver populations in Scotland either belong to the Government licensed Scottish Beaver Trial in Knapdale in Argyll, or are the descendants of escapees from private collections in Angus and Perthshire over the past decade.
Repopulation plans
SWT said it was pleased to be a part of the Tayside Beaver Study Group and that they were keen to be involved in the monitoring of the existing populations of beavers in Tayside.
It added that it was supportive of plans to see the aquatic mammals returned to the countryside.
SWT's Chief Executive Simon Milne said: "The Scottish Wildlife Trust wishes to see the return of beavers to Scotland; it is a missing part of our ecosystem.
"However, we believe that any proposal for a reintroduction should be assessed following the best scientific information, consultations with stakeholders, and the merits of each individual case.
"Reintroductions should follow International Union for Conservation of Nature Guidelines and procedures and we remain opposed to the unlicensed release of animals into the Scottish countryside."