Angus Council unveils winter 'preparedness' plans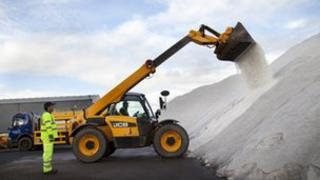 Angus Council has unveiled plans to ensure the area's infrastructure is prepared for the onset of winter.
The authority has invested £2.5m to ensure roads are kept open when the temperatures drop.
Six new pieces of specialist equipment have been purchased, bringing the council's fleet of vehicles available to tackle snow and icy conditions to 71.
About 19,000 tonnes of salt have also been stockpiled in Forfar and Arbroath.
Last year, the council built a new £320,000 storage facility at Kirriemuir Road in Forfar to help it manage its salt stocks more effectively.
Public effort
The council's roads spokesperson Cllr Mairi Evans said: "The council invests significant funds to provide snow clearing and gritting during the winter. This year we have even more salt and plant available to keep the county moving should bad weather strike."
Cllr Evans added that while the council and its partners were preparing for winter, the public also had a role to play.
She said: "When temperatures fall, the main message is consider carefully the weather conditions and to take sensible precautions when driving. Road conditions can change very rapidly.
"In extreme conditions everyday life can be disrupted. It is not always possible for the council to keep every route free of snow and ice at all times."
The council said it would encourage residents to clear the pavement outside their own properties where possible.
The authority has also provided about 600 grit bins across Angus and residents are being asked to make use of them to treat their streets and pavements.