Bank robber who fled to Perth by public transport is jailed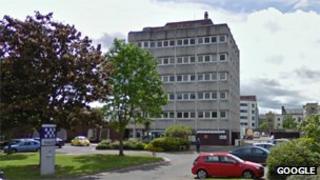 A disabled bank robber who fled to Perth after threatening to detonate a bomb has been jailed for three years at the High Court in Edinburgh.
Maxwell Taylor surrendered to police the following day after making off with £1,670 from the George Street branch of Natwest in Edinburgh.
The 29-year-old had travelled by bus and train to Perth and booked into a hotel calling it his great escape plan.
The court heard he had handed himself in as he knew he would be caught.
Taylor, described as a prisoner, earlier admitted assaulting bank employee Sahir Hiqqash and robbing him of pounds £1,670 on 27 June this year.
Bus to Fife
The court heard that he walked into the branch in the city's George Street carrying a rucksack and when he arrived at the counter he slipped a note to Mr Hiqqash stating: "I've got a bomb in my bag, hand over the money or you go bye bye."
CCTV footage revealed that after leaving the bank he had boarded a bus for Kirkcaldy in Fife, but police were unable to find him after that.
The following morning Taylor turned up at Perth police station and asked whether he could hand himself in for a robbery in Edinburgh.
He told officers: "I knew I'd be caught eventually so I thought I'd hand myself in."
He revealed that after robbing the bank in Edinburgh he had fled to Perth and booked into a hotel and added: "All part of my great escape plan."
Mr Irwin said that the robber was interviewed and gave "a full and frank admission to the crime".
Defence solicitor advocate Krista Johnston said that last year Taylor had a terrible accident which resulted in the bottom half of a leg being removed.
She said: "At the time of this particular offence he had once more become homeless. He was living in hostel accommodation. He was in the habit of carrying his belongings with him in a rucksack."
Futile crime
The defence lawyer said that Taylor had managed to get away as far as Perth "really as a result of good fortune".
"Following a night of staying there he woke up and appears to have realised the futility of it all and chose to hand himself into the police station," she said.
Judge Lord Turnbull told Taylor: "You pled guilty to an offence of a most serious kind indeed."
Lord Turnbull told him he would give weight to him handing himself in and returning the remainder of the money taken in the raid.
The judge said that in light of these features he would have felt able to restrict the sentence to four and a half years, but would further reduce it following the early guilty plea.