Dundee's V&A museum could be moved inland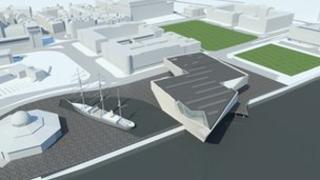 Plans for the new V&A Museum in Dundee could literally take a step forward as designers look to keep the project within its £45m budget.
The new proposals would see the museum moved inland.
Designers have suggested placing the V&A on the western half of the site currently occupied by the Olympia leisure centre, with the "prow" of the building extending over the River Tay.
The plan is still to be considered by the Design Dundee Ltd board.
Originally the building was to extend out from the Craig Harbour site into the River Tay, to give the appearance of the museum "floating on water".
Philip Long, Director of the V&A at Dundee, said the move would not affect the overall design but would allow the project to be delivered on time and on budget.
Quality retained
He said: "We are proposing to bring the building on to the shore, strengthening the connection between the river and the city centre.
"This may bring a wide range of benefits for the project and the wider waterfront development. It gives us greater certainty with regards to the building schedule while retaining the quality of the overall design, which is absolutely paramount.
"The design process is one of continual refinements and updates and we are fortunate to be working with a very experienced team who are helping us deliver a very exciting project."
The architects behind the V&A design, Kengo Kuma & Associates, have been supportive of the new plan.
Tighter relationship
Maurizio Mucciola, from the firm, said: "We have made some changes to the site plan, in full consultation with our project team.
"While retaining the original concept of our project and the qualities of the building, the new site plan will tighten the relationship of V&A at Dundee with the river and the city centre, and help connect the two with a sequence of quality public spaces around the building."
The £45m project will still be the centre piece of Dundee's central waterfront, which is currently undergoing a £1bn transformation.
Mike Galloway, director of city development at Dundee City Council said, "There are many challenges in delivering a project of the scale of the waterfront development and in building something as notable as V&A at Dundee.
"This proposal satisfies the demands of both, delivering a vibrant heart to the waterfront project.
"These are very exciting times for Dundee, re-establishing the historic connections of the city to its river."
Construction of V&A at Dundee is expected to begin in 2013 following the successful completion of a new swimming pool at East Whale Lane and the demolition of the Olympia centre.